Check out these other links: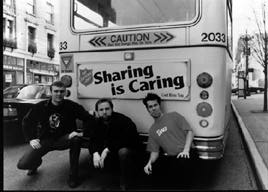 Sangstered Eggs From Outer Space Homepage. This is Johnny Sangster and Thor Egg's Power Duo. Thor also plays with Jonathan and Tuxen of the Sharing Patrol in the Heavy Rock band Dogfood.
Our 15 Minutes are a Danish band Johnny Sangster has produced. Here's thier Homepage.
Johnny's brother Jim Sangster plays bass in the Young Fresh Fellows, he also plays guitar in The Picketts.
Kurt Bloch has produced the Sharing Patrol's latest record "Take You There" among many other fine recordings. Check out his band The Fastbacks.
Ken Stringfellow of The Posies contributed his voice and piano technique to "A Little Sugar" on Take You There. Check out their web page and get their new album, "Amazing Disgrace."
Flop are another great Seattle band who unfortunately are now defunkt. Rusty Willoughy, (guit, vocals, drums, etc.) should be out with a new disc on SubPop soon so check that out too!
Jason Finn of The Presidents of the United States of America was great in lending us drums to record with when we were in Seattle. Check them out as they conquer the world!
If you read Tuxen's diary, you'll be wanting to know where you can find 7 Year Bitch. Look no further.
There isn't a whole lot of the Danish Music Scene on the web, but here is a pretty good list of danish bands to browse upon.