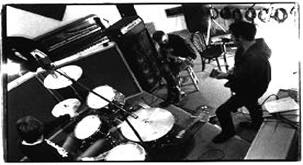 The Sharing Patrol are a garage pop trio originally from Seattle Washington though now residing in Denmark for several years. They have recently released their fourth album "The Sharing Patrol - Take You There" which is recorded and mixed in Seattle by Kurt Bloch and is available on Sundance Records in Scandinavia. The Band was formed by Johnny Sangster and Jonathan Stibbard in the early 80's. Henrik Tuxen joined in 1984 when Johnny and Jonathan moved to Denmark. Since then they have released 4 albums, 3 EPs, numerous singles and compilations. They have toured extensively in Europe and also played in other regions including Russia, India and America.

---
Jonathan Stibbard: Drums, Vocals, Keys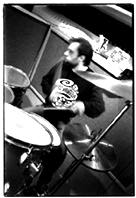 Jonathan Stibbard is the main songwriter in the Sharing Patrol. He has been writing seriously since his teens and has also delivered songs to other artists such as The Groovy Greasebags and the danish girl group; Marie Band in collaboration with Johnny Sangster. Jonathan's songwriting influences are many and although the Sharing Patrol are probably best known for their raw unpolished sound, Jonathan as a tunesmith is a definite Popster.Songs like April Flowers, Free Me, and A Little Sugar have become classics among the Sharing Patrol's many loyal fans.
Listen to Jonathan play and you will undoubtedly be reminded of John Bonham, Keith Moon, or even Ian Paice. Johnny and Jonathan's first years together were spent playing Led Zeppelin songs, and it is still a clear influence. With his laid back and heavy sound, Jonathan is an original drummer with his own style and sound.

---
Johnny Sangster: Vocals, Guitars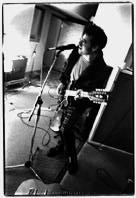 Johnny Sangster plays guitar and sings in the Sharing Patrol and numerous other outfits. He was born and raised in Seattle Washington. He met Jonathan Stibbard while living on Lopez Island in the San Juans and they formed Loosely Tight. They went on to play together in The RPMs with Johnnys brother Jim Sangster on Bass, and later as the Sharing Patrol with bassist Lou Alexander. Jim Sangster now plays Bass in the Young Fresh Fellows and Guitar in The Picketts.
Johnny was an exchange student in Denmark in 1982 and returned to visit friends in '84 where he met Henrik Tuxen and asked him to join the Sharing Patrol. Jonathan arrived soon after and it wasn't long before the band picked up momentum.
Johnny has also contributed to other projects playing and producing. In 1993 he produced his first project with a band called LITTLE TRIGGERS. Little Triggers' lead singer Tore Eg and Johnny have recently formed a power-duo together which they call "Sangstered Eggs from Outer Space". (Tore has a band with Jonathan Stibbard, Tuxen and guitarist Lars Thomsen called "DOGFOOD".) Johnny also plays in a New Orleans styled Rhythm and Blues combo under the name "THE GROOVY GREASEBAGS". They released an album late '95 and received moderate acclaim. Other side appearances have been made with the girl-country group Darleens, Marstokks Mafia, and Margrethe Bjørklund's Jazz Police.
Production wise he has been busy working on projects with Marie Band, Dog Food, Ludo-x, Margrethe Bjørklund, At Least Beauty and Our 15 Minutes.

---
Henrik Tuxen: Bass, Vocals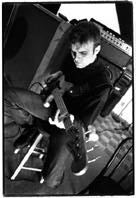 Tuxen's first musical influences were the heavy rock of the early 70's; Humble Pie, Deep Purple, Black Sabbath... Although having grown up around the world from Johnny and Jonathan, the three joined together naturally as they had all been turned on by the punk explosion of the late 70's. The Sharing Patrol's idols in 1984 were The Jam, The Clash, The Undertones etc. and soon they searched back to discover the music which had influenced these punk groups. The early 60's sound of the Small Faces, The Who, The Action, Motown & early R&B became a steady diet and the early Sharing Patrol is clearly influenced by these things. Fortunately they were never labelled a "revival band" as they always managed to hang on to their own identity.
Tuxen is a graduate of the Roskilde University where he holds a Masters in Geography and Social Science. It is Tuxen's analytical mind and his fighter instinct that has carried the band through many a crisis. Be sure to download his Studio Log from the making of "Take You There" which can be found in English and in the full un-edited Danish version.
Photos By Hammi Hammerschmidt
---


Go Home
The Band, Discography, Tour Dates, Related Links, Tuxen's Studio Log
---
sangster@pip.dknet.dk
---