Welcome to the Home of Johnny Sangster and Tore Egg, commonly known as...

Johnny Sangster & Tore Eg met eachother in 1989 on a train trip through Siberia. They were travelling with their respective bands; The Sharing Patrol & Creme Xtreme on Next Stop Sovjet's "Cultural Express Train" and perfoming to audiences throughout the USSR. One month under the extreme conditions of Gorbatjovs rapidly disintegrating Soviet Union and a musical friendship was formed.

In 1991 Tore Eg(g) formed Little Triggers, where he wrote, sang and played guitar. After three whirlwind years and one album for Sony Music (produced by Johnny Sangster) Tore decided to move on and left the band. He is now concentrating on solo efforts, studio work and is singing in the hard rock group Dogfood with the other two members of the Sharing Patrol and guitarist Lars Thomsen.
Johnny Sangster has been in The Sharing Patrol together with drummer Jonathan Stibbard since 1976. In 1984 they pulled up their roots and moved from their hometown Seattle, Wash. to Denmark where they have lived ever since. Apart from the numerous records the Sharing Patrol have made, Johnny has performed and recorded in many other groups and in many different styles. He has spent more & more time the last few years producing other peoples records and is also making a name in that field.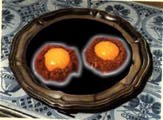 Although Tore & Johnny have performed occasionally together throughout the years, it was 1995 that saw the birth of Sangstered Eggs from Outer Space. One cold summer night in Copenhagen they turned a Cafe into a rock concert and realised the power of the sounds they were making. They dubbed it: The Power Duo!
They play music in a style that won't be ignored. Only two guitars, but the sound is big. Their voices blend as if they were made for eachother, yet they stand alone as two distinct personalities. With a repertoire that blends classic yet sometimes obscure covers with thier own original material, Sangstered Eggs from Outer Space are fresh, inventive and they are truly themselves.
---

April
11/04 Cafe Rust, CPH
12/04, Cafe Rust, CPH
---


Go Home